Aneela Nasir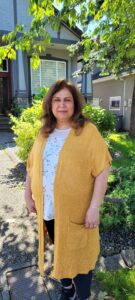 Pharmacy Technician at Royal Columbian Hospital
Profile submitted by:
RCH PAM 2022 Committee
Brief description of role or responsibilities
Aneela Nasir – Pharmacy technician at Royal Columbian Hospital
Describe how the individual or team made a positive contribution to patient care or their pharmacy department:
We would like to acknowledge Aneela, who is one of our pharmacy technicians. She volunteered to help raise funds for the PAM committee. She single-handedly cooked and prepackaged 35 hot lunches for our pharmacy staff as a fundraiser. 
We ended up making more than we anticipated and the pharmacy staff was able to enjoy a delicious curry and samosa meal after the long weekend. This is one of many instances that Aneela has gone above and beyond for the pharmacy team. 
Thank you Aneela for always being so thoughtful, kind and willing to help! We appreciate you!