Richmond Hospital Pharmacy
Richmond Hospital Pharmacy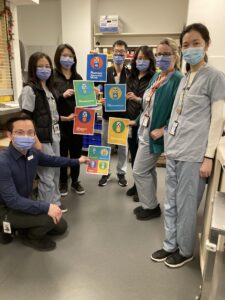 From left to right in the photo:
Marco Lee (Pharmacist), Priscilla Shum (Pharmacist), Katie Leung (Pharmacist), Dr. Casey Chan (Internal Medicine physician), Wendy Wong (Pharmacist), Susan Buchkowsky (Emergency Department CPS), Shirley Li (4th year OEE student).
Profile submitted by: Dr. Casey Chan (Internal Medicine Physician)
Brief description of role or responsibilities​
Clinical and dispensary pharmacy
Describe how the individual or team made a positive contribution to patient care or their pharmacy department:
Respectful, responsible and always dependable. 
Our pharmacists at Richmond Hospital are in the front line (i.e. helping with all medication reconciliations) and our last time of defense to look for all drug interactions.
Recommendations are consistently done with patients in mind and with the most uptodate evidence. They are always available for a call and step up to all clinical challenges and questions, 24/7 – with a smile.
I personally do not know how this hospital can function without their dedication and enthusiasm. A heartfelt – thank you 😊