Joanne Marquis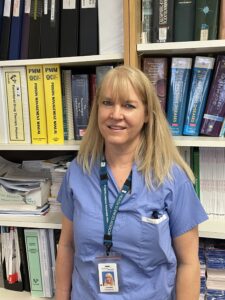 Clinical Pharmacy Specialist
Profile submitted by: Elaine Tung and Brittany Gage
Brief description of role or responsibilities
Previously a clinical pharmacist in cardiology and now CPS emergency/weekend clinical pharmacist at BUH
Describe how the individual or team made a positive contribution to patient care or their pharmacy department:
Jo has been an inspiration and mentor for me ever since she joined Burnaby as the Cardiology pharmacist in 2019.
To me she exemplifies what it means to be a dedicated, effective and practical clinical pharmacist who gives it her all when showing up to work. Jo is always generous in sharing her knowledge and vast clinical experience, and provides clear, practical, non-nonsense advice on how to do the job of a clinical pharmacist and how to do it really well.
Not only has Jo taught me a lot about cardiology, her dedication to being a patient educator and advocate has greatly informed my practice.  I often ask myself, "what would Jo do?", which means to always ask questions, seek a deeper understanding of what you don't know, and work hard to do the right thing for your patients. Also, she is a kind-hearted, caring friend and can also be quite hilarious.
We love Jo at Burnaby Hospital!
– Elaine
Joanne has made a huge impact on my practice as a clinical pharmacist. She thinks through clinical problems in a logical way and always has a down-to-earth approach to any challenge she faces.
She has helped me as a resident, even though I was never on a rotation with her and continues to help and guide me with my approach to patient care and finding the best plan for the patient. Her kindness towards her colleagues is only outshone by the patient-centered care she provides; she always goes the extra mile for her patients, even if that means staying late or following up on them in a different care area.
She inspires me to always think beyond the care we are providing to patients directly in the hospital. Plus, she is always there to provide a laugh on our weekend shifts together!
Joanne is an amazing pharmacist, teacher, and leader and I am so thankful for all the mentorship she has provided me so far on my journey as a clinical pharmacist.
– Brittany