Viara Parvanova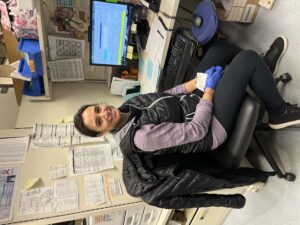 Registered Pharmacy Technician at St. Paul's Hospital Ambulatory Pharmacy
Profile submitted by:
Erin Ready
Brief description of role or responsibilities
Viara is responsible for processing, checking, and dispensing transplant medications at the St. Paul's Hospital Ambulatory Pharmacy. She communicates with patients and the St. Paul's Hospital transplant teams to help ensure heart and kidney transplant recipients across BC receive their transplant medications.
Describe how the individual or team made a positive contribution to patient care or their pharmacy department:
Recently, Viara received a phone call from a heart transplant patient who was running out of transplant medication. The patient lived alone and did not have access to transportation to come into Vancouver to pick up transplant medication directly from St. Paul's Hospital. Viara realized that mailing the medications to the patient or even shipping by courier wouldn't guarantee that the medications would arrive in time.
Luckily for the patient, Viara was about to leave for vacation and would be driving by the patient's community. Viara graciously offered to make a detour into the patient's community; everything worked out as planned as she personally delivered the medications just in time for the patient's next dose.
Kudos to Viara for going above and beyond and out of her way to ensure that this patient had uninterrupted access to life- and organ-saving medication!