St. Paul's Hospital Ambulatory Pharmacy 'Outreach' Team
St. Paul's Hospital Ambulatory Pharmacy 'Outreach' Team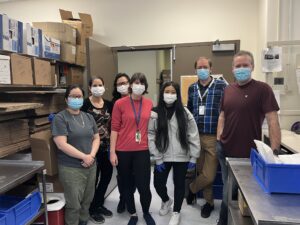 Left to right in photo: Mayling Lum, Renee Knudsen, Alex Ang, Shari Nakamura, Darylle Javier, Mark Cahoon, Regas Boufeas
Missing from photo: David Fung, Aita Munroe, Viara Parvanova, Mae Trinidad, Arleen Tyndall & St. Paul's Hospital Ambulatory Pharmacy Coordinator, Osric Sin
Brief description of role or responsibilities
St. Paul's Hospital Ambulatory Pharmacy supplies antiretroviral medications for HIV treatment and prevention (pre- and post-exposure prophylaxis) for thousands of patients across British Columbia. The St. Paul's Hospital Ambulatory Pharmacy Outreach team, made up of a group of pharmacists, technicians, and assistants, is responsible for the clinical review, dispensing, and shipping of these medications across the province.
Describe how the individual or team made a positive contribution to patient care or their pharmacy department:
Following the extreme weather events of November 2021 in southwestern BC that resulted in a series of unprecedented floods, landslides, and road closures, centralized distribution of antiretroviral medications by standard means became impossible. St. Paul's Hospital was cut off from Fraser Valley East, Interior Health, and Northern Health, yet essential medications still needed to reach patients living in these areas. Some medications were stuck in transit, while other medication shipments had already arrived at their destinations but were inaccessible by patients who had been displaced from evacuated regions.
The Outreach team quickly adapted by communicating with displaced patients, liaising with satellite pharmacies, and determining alternative medication shipment strategies. Under the excellent leadership of Osric Sin and in partnership with satellite pharmacies in Kelowna and Prince George (along with help from Langley PDC and Chilliwack General Hospital), 3 separate plans were ultimately developed to deliver medications to each of the cut off regions by air and land.
The Outreach team started tracking medication shipments that were sent out just prior to road closures to determine which patients would require re-shipments via a new delivery method. Continuous tracking of shipments under new and existing delivery methods were required, given the unpredictability of road closures. The Outreach team contacted individual patients and responded to a higher than usual call volume to triage the shipments of replacement supplies. Kudos to this hardworking team for all their efforts in ensuring uninterrupted access to antiretroviral medications in a time of natural disaster!