Puneet Vashisht
Pharmacy Mentor Spotlight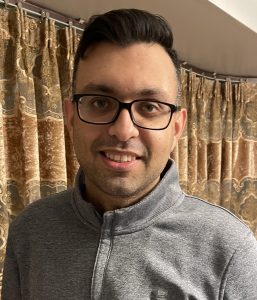 Clinical Pharmacy Specialist
Vancouver General Hospital
Profile submitted by:
Amanda Driver, Hans Haag, Ming Chang on behalf of VGH Pharmacy
Brief description of role or responsibilities
Dr. Puneet Vashisht is a Clinical Pharmacy Specialist in both medicine and family practice at Vancouver General Hospital. Although this is a relatively new role for him, he has been well recognized as a valuable team member and mentor by his medicine colleagues. He recently received the New Preceptor of the Year Award from the LMPS residency program and was recognized by the Acute Medicine Unit at VGH as a knowledgeable and resourceful team member.
Description of how they are a great mentor or has positively influenced you and the pharmacy profession:
Puneet is an excellent mentor to his colleagues, students and residents. As a newly practicing clinical pharmacy specialist he has taken on a leadership role within our department and particularly among the medicine pharmacists. He is always readily available to ask for advice or to discuss a challenging case. Puneet is generous and always thinking of others, including volunteering his time to mentor residents and students on rotation at our site, regardless of whether or not he is their primary preceptor. In addition to being a mentor to other pharmacists and learners within our department, he is a mentor to the medical residents and students he works with on the medicine units.  Puneet is always going above and beyond expectations and acts in the best interest of the patient, which makes him a valuable team member and an excellent role model within the pharmacy profession.