Julie Slaght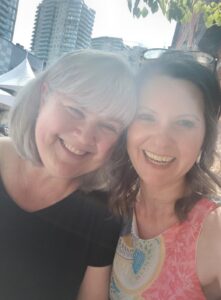 In Photo (left to right): Leeann McKenzie and Julie Slaght
Pharmacy Technician at St. Paul's Hospital
Profile submitted by:
Leeann McKenzie
Brief description of role or responsibilities
Julie is a pharmacy technician at St Paul's Hospital.
Describe how the individual or team made a positive contribution to patient care or their pharmacy department:
Over the past 25 plus years Julie has established herself as a sterling example of what a pharmacy technician should be: patient, kind, a quick learner and detail focused.
Never one to back down from an opportunity Julie has moved through various positions within the department and has covered everything from mixing chemotherapy to training new staff members. It's when she's training that Julie truly shines. She has the uncanny ability to walk a new staff through complex processes in such a way that makes what is being taught understandable, easy to retain and relatable. 
All of these are needed for a new staff member to feel at ease and to function as part of a team. She's a wealth of knowledge and is eager to share her time and skills. Because of Julie's commitment to ensuring the next generation of staff has the skills that they need in order to flourish the department we work in a great place to work. 
Thank you so much for your dedication Julie!