Burnaby Hospital Pharmacy Technicians
Burnaby Hospital Pharmacy Technicians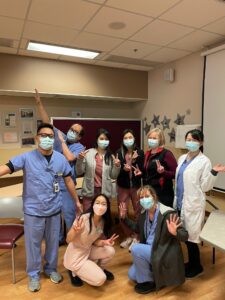 Back Row (left to right): Brian, Albert, Nina, Teresa, Teena and Lily
Front Row (left to right): Jenny and Randi
Profile submitted by:
Burnaby Hospital Pharmacists
Brief description of role or responsibilities
At Burnaby Hospital, our Pharmacy Technicians are key members of our pharmacy team. Some of their roles and responsibilities includes processing, reviewing and approving medication orders for distribution to a patient, maintaining inventory and wardstock, and preparing, processing, dispensing and compounding medications. Our pharmacy technicians also help expedite medications requested by the pharmacist for code blues around the hospital.
Furthermore, our pharmacy technician team includes expanded roles where our clinical pharmacy technicians help review patients medication reconciliation status in our critical care unit and are able to complete a BPMH for the pharmacist to review. Our clinical technicians help our pharmacist team by organizing patient censuses and even assist in therapeutic drug monitoring. They also provide total parenteral nutritional support and student orientation around the dispensary.
Describe how the individual or team made a positive contribution to patient care or their pharmacy department:
The Pharmacy Technicians at Burnaby hospital goes above and beyond in their work every day. Without their incredible contribution and support we would not have the same excellence in patient care at Burnaby Hospital. Our pharmacy technician team shows an amazing amount of dedication to their job and are examples of professionalism and resilience in our department. 
They consistently deliver high quality and precise work and plays a vital part in patient safety. Our pharmacy technicians take on difficult challenges everyday while still bringing laughter and joy to our department. Truly, our pharmacy technicians play a major part in what keeps our whole team together and their hard work does not go unnoticed! 
Thank you Burnaby Hospital Pharmacy Technicians!