Abbotsford Regional Hospital Pharmacy Team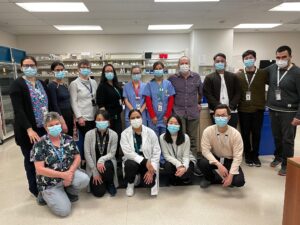 Submitted by: Angela Bains & Jason Samuel
Brief description of role or responsibilities
Clinical Coordinator (Dale Toews)
Coordinator, Distribution Pharmacy Services (Dwayne Kimoto)
Pharmacists
Pharmacy Technicians
Describe how the individual or team made a positive contribution to patient care or their pharmacy department:
Together Everyone Achieves More
November 2021 was marked by an extreme natural disaster affecting many communities. Unprecedented flooding in the Fraser Valley cut off all major routes between Abbotsford and Chilliwack.
Due to the neighbouring proximity of the cities of Abbotsford and Chilliwack, many pharmacy staff members commute to ARH from Chilliwack. Staff residing in Chilliwack were unable to attend their shifts in-person, but did help out in other ways.
Management and staff were highly creative and innovative to provide pharmaceutical care without comprising staffing levels in the midst of a pandemic. Staff unable to reach ARH pharmacy were redirected to neighbouring hospitals, working remotely to provide care for ARH patients. Staff on site were highly adaptable to changing shift duties and balancing multiple activities.
The ARH pharmacy team demonstrated great cooperation, collaboration and resilience, going above and beyond to provide exceptional care for patients, families and communities impacted by the natural disaster.