SMH Neonatal and Pediatric Pharmacy Technicians
Surrey Memorial Hospital Neonatal and Pediatric Pharmacy Technicians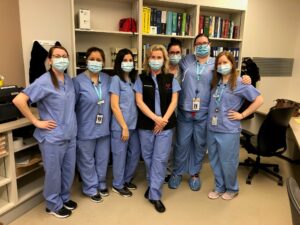 From left to right: Jennifer Stansfield, Jas Rai, Samah El-Sakka, Anna Varga, Laura Tepel, Emily McRae, Kathleen Vince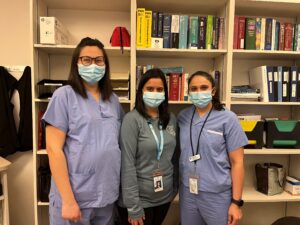 From left to right: Michelle Roman, Amtoj Randhawa, Gurbax Heer
Missing from photo: Blaine Wolfe
Profile submitted by:
Brandi Newby
Brief description of role or responsibilities
The pharmacy technicians in the Neonatal and Pediatric Pharmacy at SMH have an expanded role where they run the dispensary. The pharmacists work on the units and sign-off the orders before the orders are sent to the pharmacy department. 
Once the orders are received in the pharmacy, the pharmacy technicians enter the orders into the computer system, verify the order entry is correct, create the product, check the product, and send/deliver the product to the patient's room or unit.
Describe how the individual or team made a positive contribution to patient care or their pharmacy department:
The technicians on our team embrace change with grace and passion.
Their 'can-do' attitude is inspirational.

The technicians constantly come up with ideas/ways to make the workflow smoother as well as improve patient safety.

They truly care about the patients they are making medications for and how those medications impact the lives of the patients.

This group of technicians spread a lot of joy and kindness which is desperately needed during the pandemic 🙂