Pediatric Pharmacists at Surrey Memorial Hospital
Pediatric Pharmacists at Surrey Memorial Hospital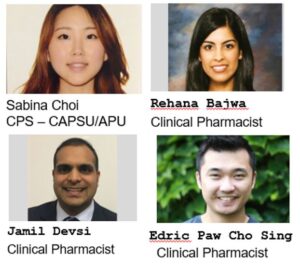 Profile submitted by:
Claire MacLeod
Brief description of role or responsibilities
The Pediatric Pharmacists at SMH are responsible for providing clinical pharmaceutical care to the infants, children and adolescents of Fraser Health, including the vulnerable patients on their pediatric oncology unit.
Describe how the individual or team made a positive contribution to patient care or their pharmacy department:
The Pediatric Pharmacists of SMH are vital members of their clinical teams, contributing daily to the safe prescribing of medications to the children and adolescents of Fraser Health. 
They work tirelessly and seamlessly together, and with other clinicians, to ensure that their patients always have safe and effective medications. Additionally, they share their wealth of pharmaceutical knowledge by teaching medical, nursing and pharmacy learners about pediatric medications and safe prescribing.
This group of pediatric pharmacists goes above-and-beyond each day and has grown into a true pharm-ily. They encourage each other, support each other, learn from and with each other, bring joy to their patients, and make it fun to come to work!