Cesilia Nishi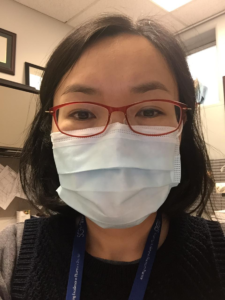 Clinical Pharmacy Specialist, Infectious Diseases
Vancouver General Hospital
Profile submitted by:
Amanda Driver, Hans Haag and Ming Chang on behalf of VGH Pharmacy
Brief description of role or responsibilities
Dr. Cesilia Nishi is the Clinical Pharmacy Specialist in Infectious Diseases at Vancouver General Hospital. In addition to providing care for patients, she is also a clinical assistant professor at the UBC Faculty of Pharmaceutical Sciences, and an associate member of the Division of Infectious Diseases with the UBC Faculty of Medicine.
Description of roles to improve patient care or provide pharmacy services during the COVID-19 pandemic
During the COVID-19 pandemic, Cesilia was an important part of the original COVID-19 Therapeutics Committee (CTC) at Vancouver General Hospital and St. Paul's Hospital, which has now morphed into BC's provincial CTC. The group meets bi-weekly to assess current research on COVID-19 therapies. In addition to reviewing large clinical trials with clinically significant results, her role also includes reviewing the peer-reviewed and non-peer-reviewed studies related to the use of vitamin supplements (such as vitamin C and D) and famotidine in the treatment of COVID-19. These reviews on the latest evidence continue to shape and formulate provincial recommendations in the management of COVID-19.
In addition to her contributions on the BC CTC, Cesilia continues to embrace her role as an educator to ensure frontline clinicians have access to the most up-to-date evidence-based information regarding COVID-19. She participated in a CSHP National web-based panel discussion highlighting available data on various therapies in April 2020. She also recently wrote an article for BC Pharmacy Association summarizing data on notable COVID-19 therapies in February 2021.
Description of impact to improve patient care or provide pharmacy services during the COVID-19 pandemic
In addition to her existing clinical work, as new information emerges on various therapies for COVID-19, Cesilia reviews and disseminates information to our team, so our frontline clinicians can provide the best patient care possible during these unprecedented times.