Candy Lee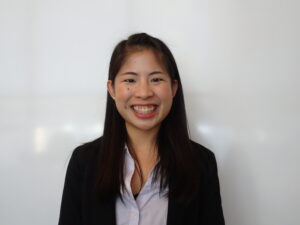 Clinical Pharmacist at Surrey Memorial Hospital (currently working at Royal Columbian Hospital)
Profile submitted by:
Ingrid Frank
Brief description of role or responsibilities
Candy Lee is a clinical pharmacist at Surrey Memorial hospital (currently working at Royal Columbian Hospital).
Description of how they are a great mentor or has positively influenced you and the pharmacy profession:
Last year, Candy was assigned as my CSHP mentor. Due to the pandemic, we were limited in terms of shadowing experiences, and we met mostly over Zoom. I had expressed a strong interest in hospital pharmacy, and eagerness to find a project to gain further pharmacy research experience. 
With limited options available, Candy suggested writing a letter to the editor as a project together. She shared her experience with me, taught me what to look for and provided me with strategies on how to write. 
Our letter was successfully published in November 2021 and to this day we have continued to keep in touch. More recently, I was able to shadow Candy in the Oncology and Palliative unit at Surrey Memorial Hospital, where we discussed patient cases, overall flow of hospital pharmacy, and her experience as a clinical pharmacist. 
Candy has always been a kind, inspiring and encouraging influence since the first day I interacted with her. I am extremely grateful for meeting Candy and being able to have built this connection with her.