Barret Barr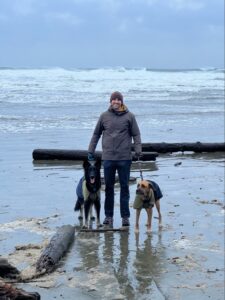 Clinical Pharmacy Specialist in Internal Medicine (Clinical Teaching Unit) at University Hospital of Northern British Columbia, Northern Health
Profile submitted by:
Amy Jradi and Gordon Ling
Brief description of role or responsibilities
Barret Barr is a Clinical Pharmacy Specialist in Internal Medicine (Clinical Teaching Unit) at University Hospital of Northern British Columbia, providing direct patient care alongside an interprofessional team.
Describe how the individual or team made a positive contribution to patient care or their pharmacy department:
We had the pleasure of having Barret as our practice educator on our Medicine and Precepting rotations. Barret is a highly respected team member in his role on CTU and in the pharmacy department. Barret promotes interprofessional collaboration by creating strong relationships while advocating for our profession.
One of Barret's strengths as a preceptor is that he takes the time to understand your strengths and weaknesses to ensure he can support your development as a clinical pharmacist. He has a passion for teaching and mentoring all health professions, at any level. Barret never shy away from a challenge and is always open to trying new techniques to enhance our learning. He has continued to push us out of our comfort zone to integrate us into the team and utilize our scope of practice to its full potential.
We are grateful to call Barret our colleague!