LGH Omnicell Pharmacy Technicians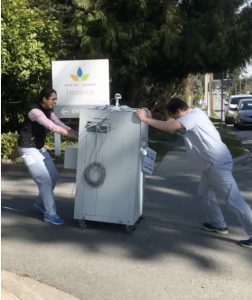 LGH Omnicell Pharmacy Technicians
Profile submitted by:
Suzanne Malfair, Marilyn Chadwick, Karen Callaway & Brittany Buffone
Brief description of role or responsibilities
LGH Omnicell Technicians are responsible for managing the Omnicell automated dispensing cabinets throughout the hospital. This includes managing the operating and server system, managing the Omnicell's inventory, troubleshooting any related issues (e.g. system down) and providing technical support for staff (e.g. adding new users).
Description of roles to improve patient care or provide pharmacy services during the COVID-19 pandemic
During the COVID-19 pandemic, Omnicell technicians were instrumental to the provision of pharmacy services. They implemented Omnicell automated dispensing cabinets in areas not previously serviced by acute pharmacy on extremely short deadlines. Secondary to the pandemic, a nearby hospice was reconfigured to accept palliative patients from LGH. This new unit had to be serviced and resourced like any other, requiring an Omnicell to be added to the unit. In the matter of days, the Omnicell technicians organized a fully stocked Omnicell, containing medications tailored to the patient population. To ensure timely delivery, they actually relocated the Omnicell from the pharmacy dispensary, transporting themselves by foot across the street. In addition, they had to create new COVID-19 procedures to continue Omnicell operations. They demonstrated much flexibility and adaptability to fast moving change.
Description of impact to improve patient care or provide pharmacy services during the COVID-19 pandemic
The Omnicell technicians worked tirelessly behind the scenes to ensure continued operations. As wards were being reassigned to manage the influx of COVID-19 patients, Omnicell technicians had to update the Omnicell drug list and its contents to ensure it contained the proper medications. For example, when our cardiology unit temporarily became a COVID positive unit, they updated the drug list to ensure it contained the medications needed for the new population.