Karen Dahri
Pharmacy Mentor Spotlight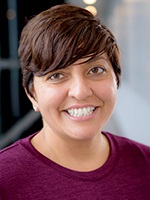 Clinical Pharmacotherapeutic & Research Specialist, Internal Medicine
Vancouver General Hospital
Profile submitted by:
Karyn Bagri
Brief description of role or responsibilities
Karen is a clinical pharmacotherapeutic and research specialist for Vancouver General Hospital. She is also an assistant professor in the Faculty of Pharmaceutical Sciences at the University of British Columbia.
Description of how they are a great mentor or has positively influenced you and the pharmacy profession:
I first met Karen in my 3rd year of pharmacy school when interviewing for a directed studies project titled A Pictogram Based Medication Calendar for Use in Hospital. I am very thankful for the research opportunity Karen provided because it not only introduced me to pharmacy research but it allowed me to build my skill set which would be vital when applying to the LMPS residency program. Karen was the primary investigator of my 2017-2018 LMPS Residency Project titled Hospital Pharmacists' Perceptions and Decision-Making Related to Drug-Drug Interactions, and provided me with further research opportunities post-residency. She also guided me throughout the publication process for my residency project and provided valuable feedback. Throughout the whole process, Karen was super supportive and readily available. Thank you for being an amazing mentor, I hope to apply some of your expertise in future mentorship opportunities.